Windows 7 End of Life:
company will stop supporting Windows 7
What is Windows 7's end of life?
Microsoft recently announced that it will officially begin the Windows 7 end-of-life phase on Jan. 14, 2020.
On that day, the company will stop supporting Windows 7 on laptops and desktops, and will no longer patch it with security updates.
If you continue to use Windows 7 after support has ended, your PC will still work, but it may become more vulnerable to security risks and viruses. Your PC will continue to start and run, but Microsoft will no longer provide the support for your business, and therefore, Click IT will not be able to continue to support that computer.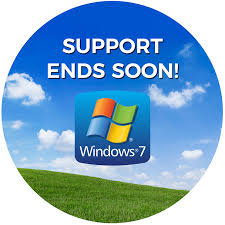 This is a notification that if you are running a Windows 7 Computer, Click IT can not take any responsibility for its maintenance after January 13th 2020.
You Must Call to Learn Your Options:
16 S. Main Street P.O. Box 2,
Chagrin Falls, OH 44022
Voice: Local: (440) 247-4998
Toll-Free: (800) 368-7416